An unforgettable experience across the endless plateaus of Swedish Lapland. 350km and 4000km of prepared trails to explore. For beginners and experts.  After a few lessons, experience the 'Arctic as you' v never seen it before. 7 days / 6 nights – cottage / hotel.

A magical and almost unreal experience that will take you back in time. All the week's activities will be mainly dedicated to outdoor and cross-country skiing, perfect for all levels of skiers especially for beginners who can try their hand at this beautiful sport and reap the benefit of the joy it brings. Some days will be devoted to ice fishing. During the excursions, which take place mainly in Sami territory, we will be retracing the ancient paths where you can catch a glimpse of ptarmigan, arctic hares, foxes and reindeer.
 Who is this program suitable for?  It is perfect for anyone who enjoys outdoor activities which take place in areas of unspoiled natural beauty. You do not need any special skills except the ability to be adaptable,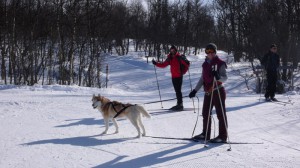 open minded towards sports activities, cross country skiing can be defined as an extension of an energetic walk, but it is not to be underestimated – it becomes easier if you remember two or three key points – but it can be exhausting if you don't listen to our expert advice and rely on your own knowledge . In Scandinavian countries, it is a very serious sport and well regarded.  Children from an early age begin to learn its techniques. It is a sport that unites young and old and one that everyone can enjoy  – except those who have had – or have in at the moment  – knee or back problems.  In these cases, acceptance onto this program can only be agreed upon the presentation of a medical certificate which agrees that the client can attempt cross-country skiing. For those who have never tried the activity before it is a wonderful opportunity to visit the Arctic without having to be an athlete or do a lot of training beforehand.
   DAY 1 – 2
We will meet at the airport / the station in Roros in Norway. Transfer to your hotels in Roros – which is a mining town, named a Unesco World Heritage site since 1980. Overnight stay in hotel.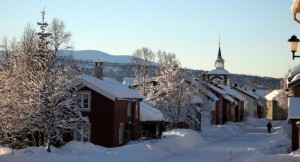 10.30 am  Meeting with the guide – introductory briefing and departure for the first hike of the day. We are in Norway, the land of the Sami, the indigenous people of the Far North. There is a  traditional farm  located a few kilometers from the city centre. During the  winter the Sami return to the valley. Here they settle in for the whole winter with their animals, sheltered from the long hard Arctic winter. We will ride on a sleigh pulled by these legendary animals, we will eat and enjoy a coffee break in a traditional Sami tent.
In the afternoon there is a tour of the mining town of Roros and our departure for Sweden. Our accomodation is in a stuga or one of the beautiful cottages, surrounded by the stunning un-spoilt countryside. .
DAY 3
After breakfast we depart for the first hike of the day. This morning will be devoted to beginning our ski instruction, including practicing on circular paths to check your level of expertise. Don't worry, beginners will have plenty of time to become familiar with skiing and to learn the basics.  For the experts, as well as a week of special instruction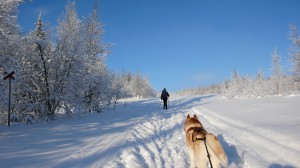 dedicated to their level, there are countless paths to explore. Our starting point will be at the Nordic Ski Centre, this is where we will start our journey. Today we will learn how to move easily on the tracks in the snow which have already been made, how to deal with the uphills and downhills and how to get up if we fall over.. We will be skiing mainly across a flat plain, along the edge of a small river, through a landscape dotted with houses and tree-lined stretches of pathways. We will stop at a coffee bar where you can taste the famous chocolate chip pancakes, or enjoy a delicious moose soup with cream. After a well deserved rest we will resume our route for the return to base.
DAY 4
Breakfast. The itinerary today is quite simple. A journey of 12km along the paths in the forests of birch trees amongst the absolute silence of the snow covered countryside. After the falling snow over night, new animal tracks will be evident. Arctic hares leave unmistakable paw prints, grouse will pop out between the branches and some timid foxes will not fail 'to make their appearance. We will have lunch in a cabin. Return in the afternoon
DAY 5 This is one of the most beautiful hikes of the week. After breakfast, we will prepare our packed lunch and follow a path that will take us to the top. The tracks across slope wind through forests of birch and amongst a landscape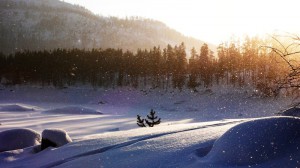 unlike any other in the world that never fails to captivate you and leave you speechless. Malmbäckstugan, this is the name of the plateau which will welcome you into its breathtaking landscape. A immense and endless desert of snow and ice. Who knows what we might see, perhaps some musk ox, the only animal still living left over from the Ice Age! At the top we going to leave the main tracks and go off piste so we can stop for our picnic lunch in a cabin. The whole day will be devoted to the exploration of this wonderful countryside where we will be able to enjoy the stunning landscape together.
DAY 6 – Rogen Nature Reserve Welcome to the 'Ice Age!' We will travel through a beautiful forest which stretches for 500kms covered with its whitewashed mantle of snow, this is when we really enter  "into the wild". This is the land of bobcats, bears, musk ox and it is waiting for us. The whole day will take us in through nature reserve where there are no roads and only a few houses, a remote place where everything has remained intact and as un-spoilt as it was 10,000 years ago. A magical atmosphere, which may offer a very special experience for all of us. Return in the afternoon
SPECIAL EVENT: During the week – weather permitting, we ski into the forest to meet some very special friends. With expert naturalists as our guides we will come to know the secrets that the Gods of  the Scandinavian forests  are whispering to us …
Day 7 Transfer to the airport / train station
This slideshow requires JavaScript.
The video
EXTREME CROSS COUNTRY SKIING – HELAGS ( 1770 m)
Heli X -country with guide
When the weather allows it, we bring cross-country skis on a lovely helicopter . The tour starts Ramundbergets mountain holding the mighty Helagsmassivet . With ski guide us back home to the Mountain Farm.