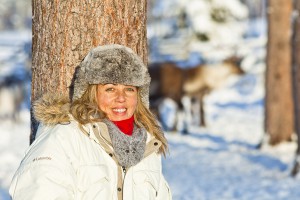 The story I'm about to tell you is about a great love of nature and animals. A long journey of four thousand kilometers leaving a land described vividly in the poetry of Mario Luzi – Tuscany -and arriving in a location 62 degrees parallel to the Arctic Circle. a mysterious place seemingly constantly enveloped by endless nights.
A degree in Anglo-American Literature, together with personal curiosity and a passion for books and travelling led me here. This is how I ended up living in a strip of land without first having visiting it, only knowing its history as told in books and through the adventures of the men who had made that history. And so starting from the beginning, this is why I am living in Harjedalen in Jämtland, one of the regions of Sweden, where there is one inhabitant every square kilometer,  amongst eleven communities  of Sami, who are the indigenous people of Scandinavia.   The challenge of a new environment, a totally different climate, with a different circle of friends and acquaintances on which to build my future career and a life that I had never imagined in my wildest dreams. Who is my companion in this adventure? Ginger, a Siberian husky, who is always by my side. I learned from him the true meaning of freedom, how happiness is rushing towards new unknown destinations, without any concerns or reservations.
From this sense of freedom and desire to welcome new challenges came the idea for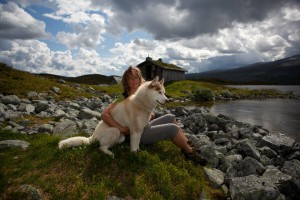 'The Red Fox Adventure Holidays', a small Tour Operator specializing in outdoor activity holidays, far removed from the normal tourist destinations, offering the opportunity of experiencing the Arctic, in an authentic way, 'outside of the box'. Allowing individuals to view these unspoiled lands with new eyes, without prejudices and stereotypical thoughts, such as worrying about the 'dreadful cold'. There is in fact a Swedish proverb that says: There is never bad weather, only bad clothing '.
To live in these lands, which for a lot of us are so culturally different from our own, many assume you need to be a great explorer or that you have to possess particular skills or attributes, but actually you simply have to love and relish outdoor activities and have the ability of appreciating the endless beautiful scenery. You'll soon discover that the true value of time is not measured in money. Here clocks have no reason to exist. The rhythms of nature will mark your days just as they did long ago.