PERIOD: June to September
A horse riding holiday in the Arctic tundra, through unspoilt forests and amongst beautiful lakes. The first available date is June 26-July 1, 2014. A holiday of 4 days and 3 nights riding through the Swedish forests, crossing the immense Scandinavian plateau, continuing right up to the Norwegian border.  For inexperienced riders there are also excursions for beginners who want to experience the world of horses for the first time.
Who would have imagined that this part of the Earth with its cold inhospitable appearance, perpetually covered by layers of snow and icy winds blowing could suddenly change during the Spring  and show such extraordinary natural beauty?  Wild orchids, Mosses, Lichens and Wild Berries  colour the vast landscape which is grazed by wild reindeer.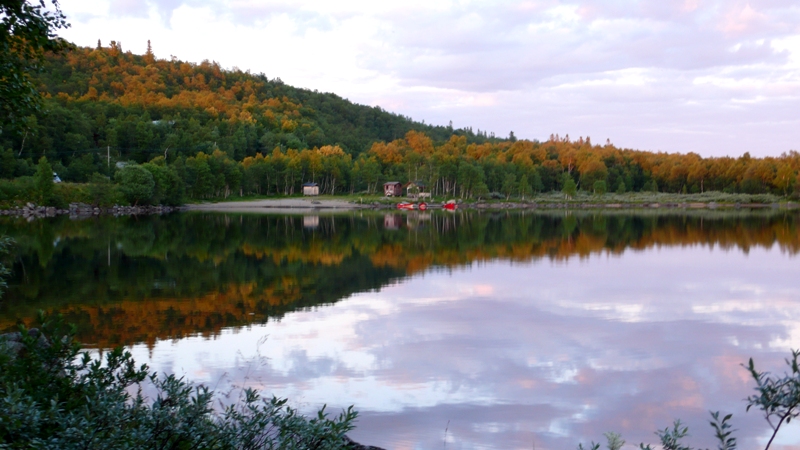 The animals move like a wave, compact, in a group, from one area to another seeking shelter from the sun and looking for the last remnants of snow where they can cool off.
Horse Riding in this place propels us immediately into another dimension. We are on the 62nd parallel in the Arctic Circle.  It is a landscape not designed by man but one which has been left intact for centuries, it is just as it was in the days of Creation and when the first men came to live here.  They were the Sami, the indigenous people of this area ,who first camped and lived on these lands with their families, building tents and travelling on sleds pulled by reindeer along natural paths.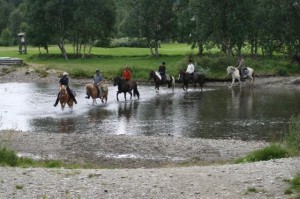 They live amongst wonderful natural beauty, but living here is not without pitfalls as it is an environment where nature had, and still has, its own laws without distinctions of any kind. For generations the Sami herders have passed down their history and culture orally, entrusting their words to the wind and to nature, so that even the divine spirits could share with them what they were experiencing. These people were grateful to nature, it was a mutual exchange. The Sami farmers existed thanks to the abundance of the large rivers and lakes.  The fishing was excellent, the water was an immense resource that allowed the vegetation to create a substrata of moss and vegetation, a perfect habitat for small animals like Lemmings, who are the primary source of food for  animal predators, especially during the harsh winters .
This is what makes these trips so special, the stunning scenery with touches of unpredictability which leads us to sometimes glimpse animals of great beauty, such as the Golden Eagle flying across the blue Scandinavian skies or Reindeer grazing wild on the Arctic tundra, often accompanied by their young offspring especially during the months of June and July.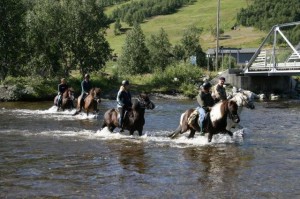 But we mustn't forget the Bears. Shy and timid animals, which run away if they have the slightest inkling of human presence. However, it is possible to see their tracks, which is always an exciting surprise for our guests, who are more accustomed to living in big cities where they can often lose contact with the natural environment, where nature is still alive and wildlife ever present.
The excursions with Icelandic horses in this corner of Swedish Lapland, may also be coupled to the main program " Between Heaven and Earth . " We spend a few hours or a complete day discovering the world of the horse in these timeless unspoilt areas
where nature has its own rhythms, something that we humans have almost forgotten.
We offer you an opportunity to savour these days, which are so unique and exclusive, by spending them with professional guides and locals who are nourished by  their love for this land which is far outside normal tourist destinations.  With small groups or with individuals, the guides will take you to locations specially selected because that is where animals and nature dominate the area.
What type of people has this programme and these activities been created for?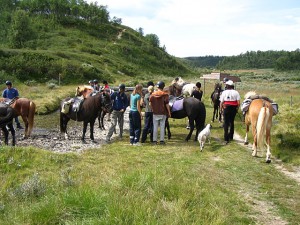 The long programme is designed for those who have had experience with riding horses. You sleep in a tent and the days are long and the riding intense, also because of the challenge of the bridleways which follow ancient paths and wind through the forests and across fords of rivers. The day trips which last a full day or a few hours are suitable for adults with differing levels of riding ability and also for children who are interested in animals and nature.
Even our Siberian dog Ginger
can not help but be fascinated by these large animals.
Every time Summer arrives Ginger likes to hang around near the fences of the horses and watch them.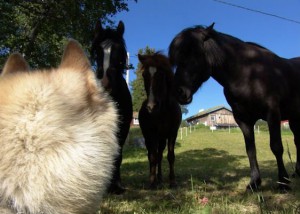 It is difficult not to be fascinated by horses, and even the horses, in spite of their apprehension of the dog, are attracted to this curious animal who watches them from the other side of the fence.
A unique emotional experience, which we recommend you try for a holiday which is unlike any other.
More info and details of our email,