Waiting for the Aurora Borealis under the Arctic Polar Circle

The accommodation we offer in the winter time have a taste of  enchantment. Accustomed to living in the hectic pace Scandinavian lodges surrounded by nature will make you relive the dream of unspoiled nature. Some of these beautiful houses made of wood are accessible only by skis or  snowshoes.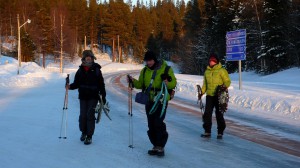 Silence is the predominant feature . Getting up in the morning completely immersed in the forests of birch and with only the flapping wings of the ptarmigan will take you  into the dream .
The lodges are comfortable, very warm , with a view and in a  old tradition style.  We propose  the ' essence Scandinavian, We  make it suitable for those who want to walk  away from  the routine  to find the ' charm and magic of nature and reliving the atmosphere of Nordic legends .
You wake up in the morning and you feel immediately at home.  With ski or snowshoes  on you can walk along the ancient paths that locals crossed to reach the city center.  Throughout the week. We will reach unimaginable places where you can breathe "the  Arctic" in all its harmony and beauty.
This slideshow requires JavaScript.