9 days / 8 nights – Accommodation: Hotel / tents- accompanied by experienced local guides.  August to September. Participants from 4 to 10 people. Rogen Nature Reserve one of the wildest and most remote areas of Sweden.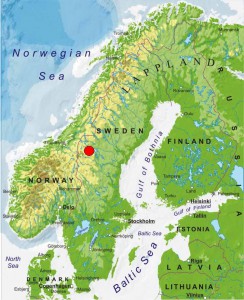 There is a pleasure in the pathless woods, There is a rapture on the lonely shore, There is society, where none intrudes, By the deep sea, and music in its roar: I love not man the less, but Nature more.
George Gordon Byron
 The Rogen Nature reserve is situated on the 62nd parallel below the Arctic Circle. It is a huge natural area – 500km of terrain which continues until it joins another Nature Reserve – the Femundmarka – in Norway. Almost like a lunar landscape – it is a maze of large and small lakes surrounded by Pine forests and rocky terrain –  it is covered by  the accumulated debris of rocks of various sizes which were transported by glaciers and deposited, when they melted, across the reserve – this is what makes this natural oasis a truly special place.
Program 
First day 
ARRIVAL  AT ROROS STATION – NORWAY collection service and transfer to your hotel in Sweden – 50 minutes by car. Dinner and overnight stay
Second day  – KÄRINGSJÖNVALLEN
The journey – by car – winds through the Rogen reserve – along a white road – bordered by Conifer forests – the road was built in 1965 and it was only in 2001 that the first electricity installation was made available for some Sami families, who still populate the area.  We will arrive at our destination around 11:30 am.  We prepare everything  that you will need to start  on your exciting journey along one of our suggested routes.  The landscape that awaits you is characterized by crystal clear waters and white sandy beaches.  There are also a series of small lakes and outcrops of Moraine (glacial debris of soil and rocks) – which create a special sort of geometry to the  landscape.   Occasionally we will have to carry the canoe over short sections of the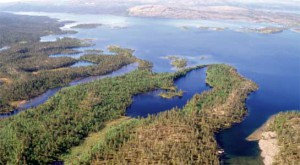 terrain from one small lake to the next. In these waters we will find Grayling and Trout and you can cook any that you catch when we stop to camp for the night. We cannot predict exactly how many kilometres we will travel in one day. Our motto is to take each day as it comes and to decide together when we want to stop for the night. You can camp anywhere within the Reserve but we have to be very responsible when lighting fires and only do so in appropriate locations using specific wood which is made available to us. The Rogen reserve has remained intact and unchanged for 10,000 years. For this reason – following the philosophy of the Sami, which is that we  leave no trace of our existence behind us – when we use the gifts that Mother Nature has given us we must take care of this natural oasis in which we walk and therefore we discourage the lighting of fires in non specified locations  using random pieces of wood from  the forest. As we will discover there are a lot of wood fossils in the Reserve that have lain undisturbed in this area for hundreds of years. They have very strange and varied shapes – rough branches and trunks of various sinuous shapes that time and the weather have smoothed to a polished finish and long roots that poke up out of the ground.
But if we destroy these fossils – by using them to light our fires – even if done by mistake – means we are  deleting an ecosystem which has remained intact for a very long time. The rest of the days we will experience the magic of nature – beautiful sunsets – but also some pesky mosquitoes – in certain areas that we cross. But the use of repellents only seems to induce  further harassment.  In this corner of paradise we meet many Reindeer, Moose and Lynx who live in these lands, as it is their natural habitat.
 Mappa area : http://www.graenslandet.se/images/stories/kartor/karta_granslandet.pdf
 Days : 3rd- 4th -5th -6th – 7th
The rest of the days we will spend exploring this vast nature reserve,  we will fish and then cook our catch. What better opportunity to see unspoiled nature? These huge unexplored expanses of land belonged and still belong to the Sami – the indigenous people of Scandinavia. But they are also areas of rare beauty – simple in its essence. Of course, during your stay we may have sudden rainfall or we will have to carry our canoes on our shoulders amongst the numerous mazes of water and land that we will face. But it is really worth it. When do we ever truly find ourselves so close to  the real essence of nature.
After our last day in the tent, we will prepare to transfer to our hotel where we will enjoy a well deserved rest, dinner and also a nice sauna!
This slideshow requires JavaScript.