Lakes, rivers, forests – a paradise for lovers of fishing: Arctic Char, Whitefish, Salmon Trout and Pike all living in a stunning setting amongst 1000 square kms of unspoilt nature reserves. You stay in cottages – perfect for individuals or groups – with an experienced local guide.
In Sweden you can find about 37 species of fish, particularly in Jämtland, where we are located – it's definitely the region of Sweden where the waters are rich in fish waiting to be caught by fly or spinning fishing. The main fish species are: Trout, Grayling, Pike, Perch, Whitefish, Char and Salmon – there are no standard sizes or quantities specified. .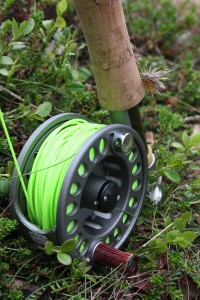 If you want to go fishing on a boat on the great lakes we recommend Funäsdalssjön, Tänndalssjön or Messlingen. Each year these lakes are full of large fish, especially Trout.
To the south of the mountains in Tänndalen Hamra the waters offer the same challenge. In the land of the Musk Ox we find the Svansjön and Bolagen lakes where you can catch Trout and Char in their beautiful clear waters and amongst unspoilt countryside.
Another interesting location for fishing is Tannas which is inside the Rogen Nature Reserve
 Both Tännäs and Rogen have perfect conditions for catching Perch and Grayling. Every year, Grayling as heavy as 2 pounds have been caught here! Why not try fishing from a boat or a canoe? You can choose to stay in a cottage for two to six people and experience an exciting adventure inside one of the most remote and unspoilt parts of Sweden, inside 500 km of forests and near lakes of crystal clear water.
Catch and release
-Do not take more fish than you need. This is the formula that we respect.
Catch and release is a term that is often used when it comes to angling. The basic idea is that once the fish has been caught, it can be freed again .. And, of course, you do that in a gentle way, so that the fish is not damaged or injured. The most important thing to consider is that you do not destroy the mucus layer that protects the skin of the fish. Precautions and appropriate care should be taken to return the fish to their natural habitat.
But which species can we catch?
Trout (Salmo trutta)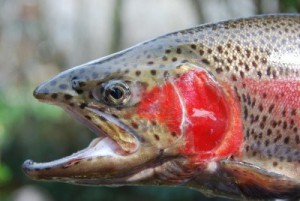 Many anglers consider Trout to be the best fish that fresh water can offer. In our area there are a lot of rivers and lakes teeming with trout!
The Trout like to sit under the trees and often behind the rocks not too far from the bottom of the river or lake.
Early in the season, when the water level is high and the temperatures are low, you will have to fish with bait that sinks deep into the water. During the Summer it is generally possible to catch a lot of fish, due to the large amount of swarming insects at this time of year. For those who love spin fishing we recommend the Lotto spinnerbait, or specialist equipment such as Möreungen or small wobblers with similar colours to the actual fish. Fishing is usually at its best during sunrise or at sunset. When it's really hot in summer, you can also be successful at other times of the day.
Char (Salvelinus alpinus)
As suggested by its Latin name the Arctic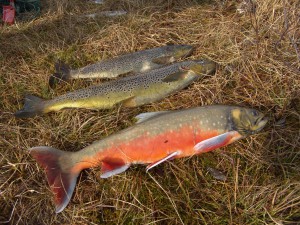 Char is a cold water fish that prefers clear water and mountain lakes. It looks very nice and cute with its blood-red belly and white tip. The Brook Trout is also known for its unpredictability. We often see a shoal of Char one minute and then a second later they have gone, whoosh! This fish is known for its beauty and it is truly a privilege to be able to catch this character during the Summer in Funäsdalen . In Summer, Char prefers water where the temperature is low, this occurs for example in water where the streams flow into the lakes. In addition, this type of fish is attracted by small flies such as midges and mosquitoes.
Grayling (Thymallus Thymallus)
This is one of the best areas for Grayling. The clear fresh water in the nearby Tännäs Rogen, (a Nature Reserve stretching for 500 km) offers pleasant fishing for several reasons. This fascinating landscape was formed during the last ice age, which occurred 10,000 years ago. The abundance of islands, islets and coves have created fantastic conditions for fishing. In these waters, the Grayling feel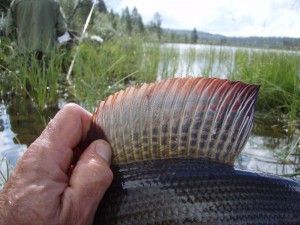 at home. Throughout his life this fish eats predominantly all kinds of insects. In the Summer, the abundance of insects to feast on pushes him almost onto the surface of the crystal clear waters. Every year people catch specimens weighing up to 2 pounds and sometimes even more! This, however, is not the only time to fish Grayling. The season continues until the Autumn. One of the best things about fishing in the Autumn is the beautiful countryside that, by this time, has turned into bright rich colours of yellow,red and orange
Whitefish (Coregonus lavaretus)
A lot of people don't regard the beautiful White fish as a good catch when they go fishing during the summer. This fish is often considered to be a fish that you only catch while fishing on the ice, but there is a good chance of catching one even during the Summer. For the fly fisherman, it can be a real challenge to try to get a Whitefish on the hook! Mid-summer is the best time for fishing Whitefish, especially from the late afternoon until late at night. Smoked whitefish is one of the best culinary delicacies of this mountain region!
Pike (Esox lucius )
The Ljusnedalssjön Lossen waters are superb for fishing for Pike! Every year, Pike as heavy as 10 pounds are caught here and the largest fish is often caught by amateur fishermen. You can catch Pike throughout the Summer, but it is during the late Spring and Autumn that the really big Pike are available. Try a Zaltwobbler or a great Nils Master in one of the coves in Ljusnedalssjön. Funäsdalssjön.  Pike fishing is an exciting experience, we especially recommend trying your hand in the most northerly point.  Jerk bait fishing near the surface will generate real aggressive bites from the fish which really starts the adrenaline pumping.  We strongly recommended it if you have never tried it before!
Perch (Perca fluviatilis)
The fishing waters around Tännäs are recommended for catching Grayling, but there is also another fish in these waters just as perfect, the Perch.  It too can achieve an impressive weight, often one or two pounds. These fish are mostly active during the early morning. When the weather is calm, you can follow shoals of Perch hunting along the banks of the lake so it is important to grasp the moment!
WHAT WE OFFER?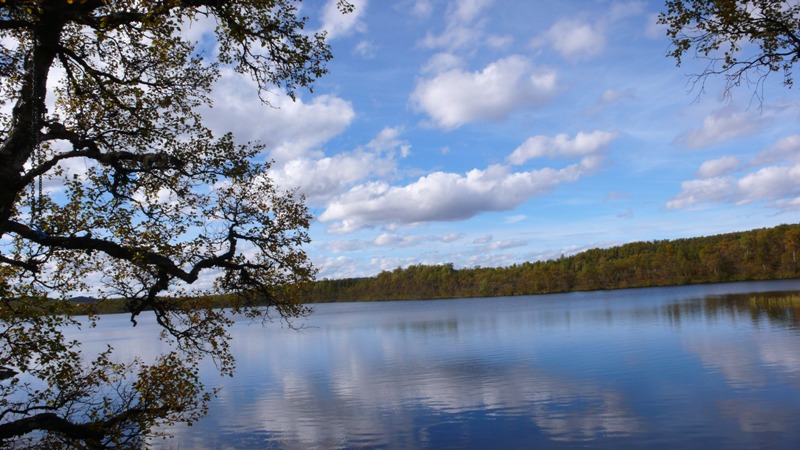 8 days / 7 nights accommodation in cottages and expert assistance on hand throughout the period of your stay.
or
Fishing  camp  at the Rogen Nature Reserve with a Sami  local guide.
accomodation : tent
type of fish : Grayling
 A unique experience surrounded by unspoilt countryside.
For lovers of "do it yourself" this is a viable alternative to a structured holiday
Fly  & drive – by renting your own car you will be more free to move from one place to another, and be able to take advantage of the myriad of opportunities that this fantastic area with so many lakes and rivers can offer you. Of course we are always available to give you any necessary assistance such as providing local guides for you – if required – accommodation – we can also offer a tailored service for all your needs.
This slideshow requires JavaScript.